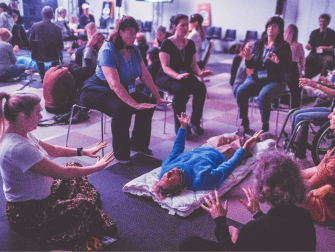 Coherence Healing™
As people in our work began healing themselves from a wide variety of complex health conditions and terminal diagnoses, we began asking the question: is it possible to use these same principles to heal another person? To answer this question, we started developing, teaching, and practicing a technique called Coherence Healing™—and the results have been astounding.
Stories of Transformation
Stories of Transformation
Eefje's Story
Three years ago, Eefje was diagnosed with cervical cancer. She went through surgery, chemotherapy, special diets and alternative treatments with no success. She then discovered Dr Joe's books and videos and began meditating. During the Mallorca Advanced Week Long Retreat, she participated as a healee in one of our Coherence Healing sessions. Watch what happened...